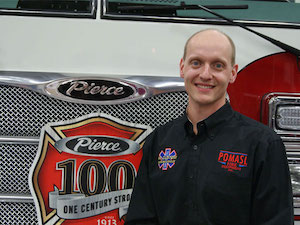 Kevin Pomasl
Pierce Sales Representative
Email: kevin@pomasl.com
Phone: (800) 686-6886
Phone: (715) 623-7454
Fax: (715) 627-7504
Cell: 715-610-4210
Or contact the Halt Fire main office at (248) 669-0800 to leave a message for Kevin.
You can reach Kevin at:
Pomasl Fire Equipment, Inc.
1918 Neva Road
PO Box 267
Antigo, Wisconsin 54409
Kevin's history with the fire service dates back to 1993 when he started helping his father while working at Pomasl Fire Equipment. Kevin started in service repairing apparatus and then going with his father to delivery new Pierce apparatus. Kevin left the industry for a in order to attend college but came back to take on a new role in sales of equipment and then expanding into all type of apparatus.
Kevin Pomasl has been representing Pierce Manufacturing since 2000. During this time, he has delivered a wide array of apparatus from smaller 12′ rescue trucks to 6×6 pumper-tanker, to custom pumpers to Industrial pumpers to aerials.
Your call on how to handle the ambulance verbiage.
Kevin covers the entire Upper Peninsula with most of the area very rural with occasional medium sized cities. Kevin utilizes his years of experience to help customers design trucks that fit both their budget and their needs. Kevin focuses on the customer's needs and coverage area and gives suggestions for layouts to help them operate in the most efficient manner; however, the final layout is always up to the customer since they will be using the truck.
Kevin is married with two children. When not working, Kevin enjoys spending time with family, riding and racing his road and mountain bicycles and spending time outdoors hunting.
++++++++++++++++++++++++