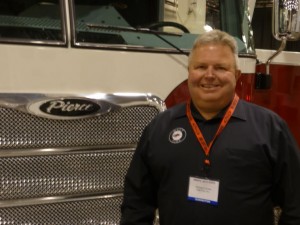 Richard Choate
Pierce Sales Representative
E-Mail: rchoate@haltfire.net
Phone: (586) 943-3895Or contact the Halt Fire main office at (248) 669-0800 to leave a message for Richard.
Richard Choate has been representing Pierce Manufacturing since 1999 and has delivered all types of apparatus. Richard has a "keen eye for detail" and works closely with the customer to assure the finished apparatus meets the department's needs. Richards' customer base includes urban, suburban and rural areas and he has been able to design and deliver the appropriate apparatus for those departments. Richard will frequently make recommendations to the customer, but also reminds the customer that "this is their truck and asks them to talk about what is important to their department". Richard has thirty-four years of fire department experience which includes nine years volunteer/part-paid and twenty-five years with a career department. Richard has worked in all levels of the fire service and retired as a Battalion Chief. Richard is also a Paramedic and an Instructor-Coordinator, was a Director of a hospital owned EMS system and has been involved in radio communications, computer aided dispatch, fire station design and construction. Richard is married with two children and when not involved with the family or fire apparatus he can be found involved with technology or watching/talking about airplanes, trains and lake freighters.
++++++++++++++++++++++++