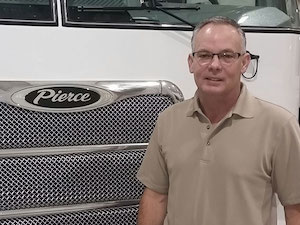 Tom McDonald
Pierce Sales Representative
Phone: (248) 240-6046Or contact the Halt Fire main office at (248) 669-0800 to leave a message for Tom.
Tom began his fire service career in 1989 as a paid on-call fire fighter while he was attending college. In 1994, Tom became a full time fire fighter with Independence Township Fire Department where he currently works as a Captain/Paramedic.
Tom came to work for Halt Fire, Inc. in December of 2014, representing both Pierce Manufacturing and PL Custom.
While new to our sales team, Tom has a long history with Pierce dating back to 1993 when he made him first trip to Appleton as an extra set of eyes for a delivery trip. Since that time, Tom has been involved in several apparatus projects for his department and has been involved in County, Regional and State projects as well. From new apparatus, to apparatus refurbishment, even a demonstrator aerial that was purchased and sent for modifications. Tom has worked on all types of projects with Pierce and has been involved in ambulance projects with several manufactures.
Listening to the customers needs, ensuring those needs are designed into their truck specifications and follow-up after delivery is Tom's focus as a Halt Fire, Inc. Sales Representative.
++++++++++++++++++++++++