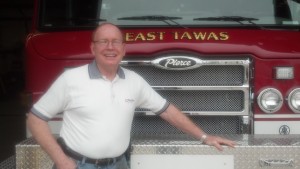 Bill Deckett
Pierce Sales Representative
E-Mail: bdeckett@haltfire.net
Phone: (989) 329-0454Or contact the Halt Fire main office at (248) 669-0800 to leave a message for Bill.
Bill Deckett has been representing Pierce Manufacturing in northern lower Michigan since 1999. He enjoys working with departments to ensure that they put together a specification that will fit the needs of their department and community. He joined the East Tawas Fire Department in 1969 and has been chief since 1988. He has been a Michigan Fire Service Instructor since 1974 and also teaching driver safety using a driving simulator. Bill has served on the boards of both Northern Michigan Fire Chiefs and the Michigan Association of Fire Chiefs. In his spare time, he enjoys flying his 1947 Luscombe.
++++++++++++++++++++++++